Discover more from Offline Journal Newsletter
Offline Journal Newsletter provides information on new issues of the printed Journal, published each April and October and also news on the latest photography exhibitions, events and photobooks in Wales and near the border.
Hello again
It's been a busy few weeks!
New articles for Offline Journal issue #010 are underway, a few events provided good thinking fodder - and I had an interesting audio discussion with photographer Stephen Clarke (listen below).
(This edition of the Newsletter may be too long for some email applications to load fully - but the full post can be read online here >)
Brian
---
Martin Parr show opens at Ffoto Newport
It was another good turnout for the opening night of Ffoto Newport's latest exhibition Signs of the Times by Martin Parr on Saturday 26 November.
The exhibition had a celebratory feel - being the tenth show and marking the small gallery's first year in operation. It will also be the final Ffoto Newport exhibition in the Market Arcade before the gallery moves to a new home in a larger space in the nearby Newport Arcade on the High Street (opposite the Tiny Rebel bar).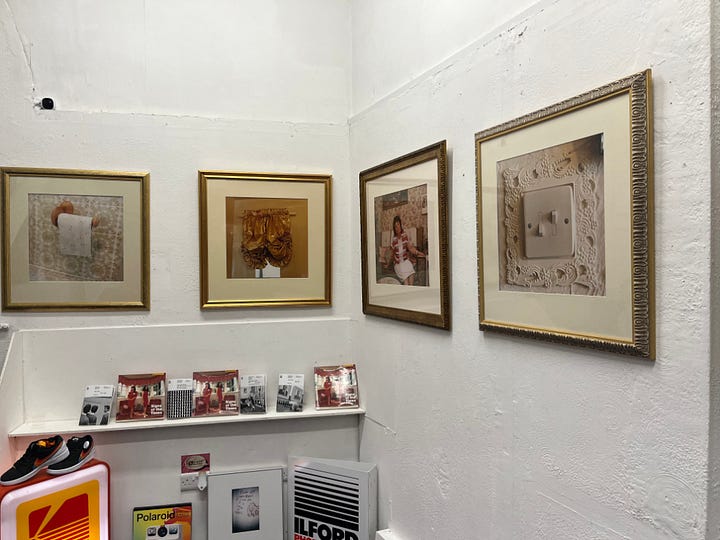 Martin Parr's 'Signs of the Times' is on show now and runs until 31 January 2023. Check the gallery website for opening times.
---
ALL THAT GLITTERS - Stephen Clarke
Juggling his day job as Lecturer in Fine Art, Graphic Design and Photography at the University of Chester with revealing previously unseen work from his extensive archive, Stephen Clarke has released a new experimental collaboration with photobook publisher
Fistful of Books
.
The result, All That Glitters, presents images by Clarke documenting a weekend studio shoot undertaken by one of his female six-form photography students for a small Hampshire-based dance troupe in the early 1990s.
Printed in a edition of 100 copies at 128 x 183mm and 48 pages, the small book adopts spiral wire binding allowing the spreads to open perfectly flat. The majority of the original black & white 35mm film scans included in the book were colourised by designer and Fistful of Books founder Simon Robinson, and give a visual nod to lighting familiar on dance and Cabaret stages.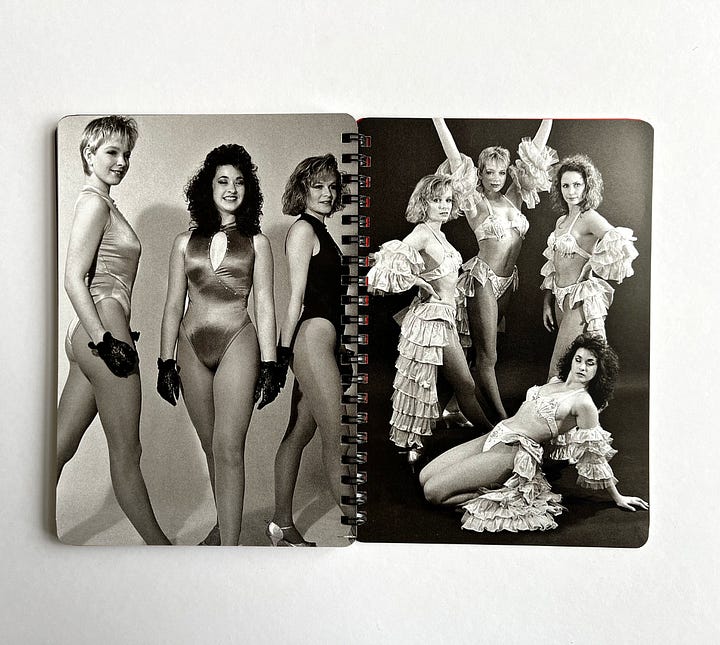 Below is an audio conversation I recorded with Stephen Clarke shortly after receiving a copy of the book…
You can view 'All that Glitters' and the full range of books published by photographer Simon Robinson on the Fistful of Books website www.fistfulofbooks.com
---
Ten.8 Magazine - history & talk of revival
I spent an interesting Saturday afternoon over at The Martin Parr Foundation in Bristol a couple of weekends ago, in the company of Cardiff photographer Matthew Harry and twenty or so others from around the UK.
We were there to listen to an engaging presentation on the history (and proposed revival) of TEN•8 magazine by guest speaker Darryl Georgiou (ex-picture editor at the magazine) and MA Curating student Jocelyn Gale, who had studied the full collection of TEN•8 held in the MPF Collection.
Some readers will be familiar with TEN•8 – I know several who have one or several issues lying at the back of cupboards or in boxes. Named after the popular 10x8 inch analogue work prints submitted to newspapers and magazine publishers at the time, the quarterly magazine was founded in 1979 by three Birmingham photographers Derek Bishton, John Reardon and Brian Homer. Issue #11 was one I hadn't seen before as it carried a nine-page feature on Tish Murtha's images of 1980s Newcastle titled Sights of the Struggle.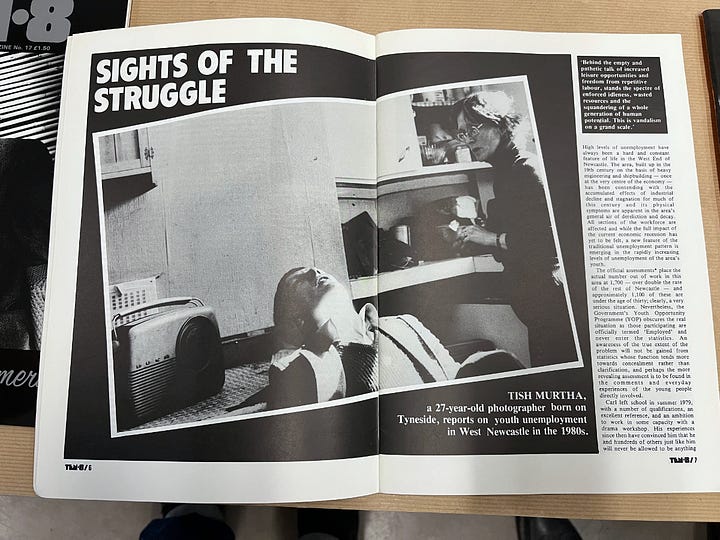 One interesting part of Darryl Georgiou's talk was the proposed revival of the magazine for a contemporary photography audience and expressing an interest in hearing proposal ideas. Whilst Offline Journal is a significantly smaller publishing effort, I will follow any rebirth developments of TEN•8 with interest – particularly on whether it aims to appeal to a regional, national or international audience in the articles and themes it carries.
There is a very informative 2011 presentation and images titled The legacy of Ten•8 by co-founder Derek Bishton on his website - an interesting story.
---
Swansea Exhibition:
PAST, PRESENT and FUTURE – WELSH ICONS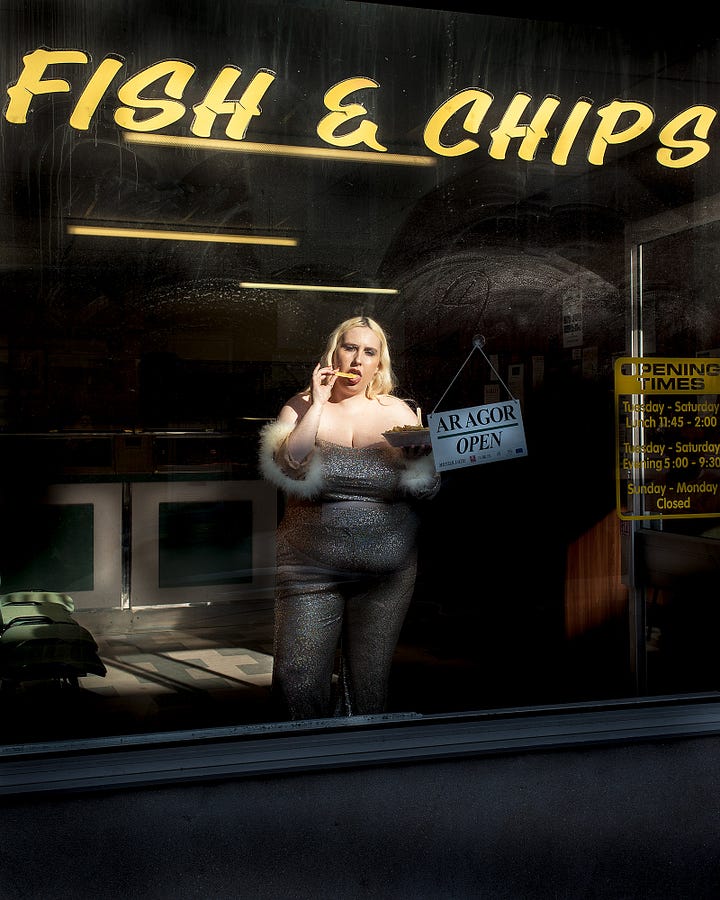 Swansea's Glynn Vivian Gallery is currently showing a selection of photographic portraits from the National Portrait Gallery in London.
As described on the gallery website:
This exhibition will bring together ten photographic portraits from the National Portrait Gallery, London, which explore Welsh identity, together with works from two Welsh photographers, Megan Winstone and Mohamed Hassan. This is a new collaborative display – organised in partnership with the National Portrait Gallery – exploring identity, representation and the contemporary relevance of portraiture.
Great to see portrait photographer talent from Wales being recognised by NPG in London and shown on home turf!
The exhibition is open now and runs through to Sunday 29 January 2023.
www.glynnvivian.co.uk/whats-on/past-present-and-future-welsh-icons
---
Substack Android App now has Chat
Substack have now released their very useful App for Android devices, including support for their 'Chat' feature.
The Substack App presents all Offline Newsletters (and any other writers you follow) as they appear on your mobile device - very handy for reading when you're out and about and/or quickly checking exhibition listings and dates. The Chat feature allows more readers to participate in discussion threads on photography with other subscribers of this Offline Journal Newsletter.
I've posted a new thread using the App for Newsletter readers like yourself to offer some comments on and kick the tyres of Chat for yourself if you haven't yet to tried it out. And look out for a new series of themed posts from the Offline account on Substack over the Christmas and New Year period… join in the discussions!
You can easily read and participate in Chats by selecting the double chat bubble tab/icon at the bottom of the App interface, just to the right of the 'inbox' tab/icon.
You can download the Android or Apple iOS version of the Substack App here
---
Photography Exhibitions & Events
Here's a list of exhibitions & events I'm aware of in, and bordering, Wales.
If you're aware of any others planned or coming up, please leave a comment or direct the photographer or gallery curator my way via: offline.journal@gmail.com
A WHISPER STIRS THE SILENCE - PHOTOGRAPHS IN SNOWDONIA
John Clow
12 June - 21 December 2022
Ffotogaleri y Gofeb, Machynlleth
www.ffotogaleriygofeb.co.uk
---
CITY STORIES
Pete Davis: Cardiff 1969 - 1977
1 October - 8 December 2022
Futures Gallery, Pierhead Building, Cardiff Bay
www.senedd.wales/visit/exhibitions
---
THIS GOLDEN MILE
Kavi Pujara
6 October - 18 December 2022
Martin Parr Foundation, Bristol
www.martinparrfoundation.org
---
WE'RE NOT JUST PASSING THROUGH
Glenn Edwards (with guest work by Vanley Burke)
6 October 2022 - 8 January 2023
Aberystwyth Arts Centre, Aberystwyth
www.aberystwythartscentre.co.uk
---
PAST, PRESENT and FUTURE – WELSH ICONS
Mohamed Hassan & Megan Winstone (& National Portrait Gallery Collection)
7 October 2022 - 29 January 2023
Glynn Vivian Gallery, Swansea
www.glynnvivian.co.uk
---
35 SUMMERS
Mark McNulty
15 October - 21 January 2022
Oriel Colwyn, Colwyn Bay
www.orielcolwyn.org
---
PWER POBL / PEOPLE POWER
Group exhibition, tour and workshops on the work of female & non-binary photographers that, from a feminist perspective, has documented the act of protest and shaped its representation
10 November - 22 December 2022
Workers Gallery, Ynyshir, Rhondda Valley
www.workersgallery.co.uk
---
FFOCWS
Various photographers
4 November - 17 December 2022
Ffotogallery, Cardiff
www.ffotogallery.org
---
MEMORY INTO LANDSCAPE
Various Artists (including Isabella Campbell, Offline Journal issue #003)
18 November - 23 December 2022
Elysium Gallery, Swansea
www.artrabbit.com
---
BRECON AT NIGHT
Tony Bennett (part of artist group Festive Exhibition)
22 November - 23 December 2022
Found Gallery, Brecon
www.foundgallery.co.uk
---
CAERNARFON (as featured in the latest Offline Journal #009)
Joan West
23 November - 30 January 2023
Galeri Café Bar, Caernarfon
www.joanwest.com
---
SIGNS OF THE TIMES
Martin Parr
26 November - 31 January 2023 (opening event 5 - 8pm 26 November)
Ffoto Newport, Newport
www.ffotonewport.com
---
Ped4ir Môn Collective
Group show
14 January - 4 March 2023
The Willow Gallery, Oswestry
www.willowgalleryoswestry.org