#42: Offline Journal Newsletter : Oct '22
EYE Photography Festival 2022 & Eamonn McCabe
Hello again
Just a quick reminder from me that the latest issue #009 of Offline Journal became available this week and is now available to order online (less than a third of stock now remaining!)- or as part of 2-issue subscription, with or without supplements.
If you don't see the full text of this Newsletter in your email inbox, click on the link at the bottom to view everything (and previous posts) online in your browser.
---
Eamonn McCabe - photographer & picture editor
As The EYE Festival prepares to launch its 2022 event 7pm this evening (Friday) in Aberystwyth (tickets for individual speaker sessions are now available to buy), there will be many attending with fond memories of Eamonn McCabe who was a big supporter, guest speaker and moderator of the festival since its launch in 2012, and who sadly died suddenly earlier this week.
John Gilbey posted a lovely photo of Eamonn and fellow speakers at the first EYE festival in 2012 this morning on Twitter. Spot the faces.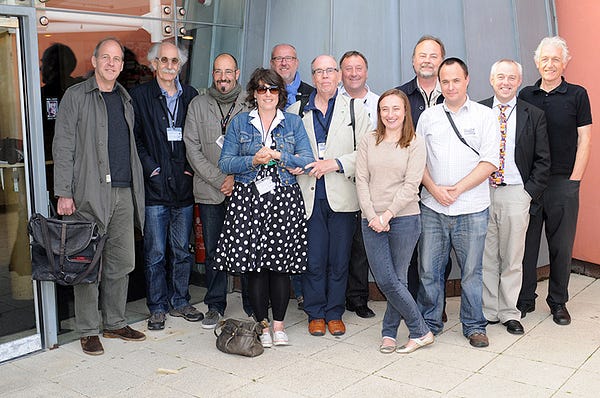 https://www.theguardian.com/artanddesign/2022/oct/06/eamonn-mccabe-obituary
Emyr Young and I had the great pleasure of meeting Eamonn at the 2016 event when he was on duty and moderator and chief inquisitor of the guest speakers that year. He very kindly took time to record a conversation with us for the Ffoton website (it was also one of the few I filmed) - and is well worth watching on the Ffoton Youtube channel
Photography has lost a true gem of a gentleman, talented photographer and skilled picture editor (at The Guardian for thirteen years ) who was universally respected by those who worked with him on both sides of the camera.
The Guardian, where McCabe was previously picture editor, has paid tribute by creating an impressive 'Life in Pictures' page on their website.
---
Alien Resident - Stephen Clarke (part 2)
This is part 2 of my 2-part conversation with Stephen Clarke discussing his work made in San Diego. You can listen to Part 1 in a previous edition of this newsletter.
There can't be many student projects requiring a journey of over 5000 miles to make a series of photographs over the span of a year.
But a young Stephen Clarke opted to do just that while studying Fine Art at Gwent College of Higher Education in Newport, South Wales in the early 1980s. The young artist was already using photography extensively in his work and was an admirer of the New Topographics aesthetic which had emerged a decade earlier in the USA, and decided (with no real plan) to head for San Diego with his 35mm camera.
A year later, he returned to the UK and developed a great many rolls of exposed film.
Listen below to part 2 of Offline Journal's 2-part conversation with Stephen Clarke on his work made in San Diego.
---
Peter Finnemore - Looking for Signs exhibition
Ffotogallery hosted the opening of Peter Finnemore's 'Looking for Signs' exhibition and book launch last night in Cardiff.
The pop-up exhibition features an impressive selection of prints from his new book of the same name - and which features in an interview/article written by Ellie Macdonald in the latest issue #009 of Offline Journal.
Looking for Signs runs 6 - 20 October 2022 in Ffotogallery.
Peter Finnemore and book designer Alejandro Acín will give at talk on the project at Ffotogallery's Photo Book Fair on Saturday 15 October, where Offline Journal will also have a stall with the latest issue #009 and back issues.
www.ffotogallery.org
---
35 Summers at Oriel Colwyn
Following Malcolm Glover's Llyn Peninsula exhibition, Oriel Colwyn will reopen the gallery on Saturday 15 October with an afternoon-long event to celebrate 35 Summers - a new exhibition by North Wales-based professional photographer Mark McNulty.
35 Summers is described as a mostly chronological timeline of McNulty's music related work going back over 35 years.
One not to miss. See exhibition listing below.
---
Y CAE / THE FIELD
Y CAE/THE FIELD is an ongoing series of exhibitions curated by Valley Ffocws art collective in collaboration with the Ynysybwl Regeneration Partnership (YRP) on the subject of the former Lady Windsor Colliery site. Each exhibitor will take over the six presentation boards located along the Ynysybwl branch of the Taff Trail for two months, host a shared community event and create a publication available from the YRP office.
The common focus is the site of the Lady Windsor Colliery and its future. Each contributor brings their own expertise, including photography, industrial archaeology, social history, illustration & storytelling, fine art, ecology and surveying. The aim is to both inform and stimulate given the backdrop of the site's industrial life between 1886 and 1988 and provoke fresh ideas in the context of today's challenges; in particular, climate emergency. 
'It's a Small World – Former Lady Windsor Colliery' by Dr Steven Murray
Dr Steven Murray has been recording the Lady Windsor Colliery site for 14 years and finds a mosaic of biodiversity, an accidental haven for wildlife at a small scale. His macro photographic landscapes across this tapestry of habitats are displayed much enlarged, but the originals can still be spotted by the naked eye. Steven works as a Science Teacher in Beddau.
Talk/Publication: 6.45pm on 19 October in The Constitutional Club, Windsor Road, Ynysybwl CF37 3HR  
---
Photography Exhibitions & Events
Here's a list of exhibitions & events I'm aware of in, and bordering, Wales.
If you're aware of any others planned for 2022, please leave a comment or direct the photographer or gallery representative my way via:offline.journal@gmail.com
Make/Believe
Photographs of/by Angus McBean from the School of Art collection
16 May - 30 September 2022
Aberystwyth School of Art
www.aber.ac.uk/en/art/gallery-museum/exhibitions
---
A WHISPER STIRS THE SILENCE
John Clow (original prints available to purchase)
12 June - 21 October 2022
Ffotogaleri y Gofeb, Machynlleth
www.ffotogaleriygofeb.co.uk
---
Squaring the Circles of Confusion: Neo-Pictorialism in the 21st Century
Various artists
9 September - 6 November 2022
Royal Photographic Society, Bristol
www.facebook.com/FfotoNewport
---
A PORTRAIT OF WALES
Nick Treharne
13 September - 9 November 2022
Senedd Oriel, Senedd, Cardiff Bay
www.senedd.wales/visit/exhibitions
---
YUCKERS YEAR: David Pearce – Newport's Rocky 1983
Glenn Edwards
15 September - 30 October 2022
Workers Gallery, Ynyshir, Rhondda Valley
www.workersgallery.co.uk
---
A LOOK IN THE EYE
Various guest photographers from this year's EYE Festival
15 September - 30 October 2022
Workers Gallery, Ynyshir, Rhondda Valley
www.workersgallery.co.uk
---
YUCKERS YEAR: David Pearce – Newport's Rocky 1983
30 September - 30 October 2022
Ffoto Newport, Newport (opening night Friday 30 September 5.30-8pm)
www.facebook.com/FfotoNewport
---
CITY STORIES
Pete Davis: Cardiff 1969 - 1977
1 October - 8 December 2022 (opening Friday 30 September 5.30-8pm)
Futures Gallery, Pierhead Building, Cardiff Bay
www.senedd.wales/visit/exhibitions
---
LOOKING FOR SIGNS
Peter Finnemore
6 - 20 October 2022 (opening night 6pm Thursday 6 October 2022)
Ffotogallery, Cardiff
www.ffotogallery.org
---
THIS GOLDEN MILE
Kavi Pujara
6 October - 18 December 2022
Martin Parr Foundation, Bristol
www.martinparrfoundation.org
---
PWER POBL / PEOPLE POWER
Group exhibition, tour and workshops on the work of female & non-binary photographers that, from a feminist perspective, has documented the act of protest and shaped its representation
October 2022 - January 2023
Workers Gallery, Ynyshir, Rhondda Valley
www.workersgallery.co.uk
---
FFOTOGALLERY PHOTO BOOK FAIR
Various publishers (including Offline Journal) plus guest speakers Peter Finnemore & Alejandro Acín discussing Finnemore's 'Looking for Signs' book
15 October 2022
Ffotogallery, Cardiff
www.ffotogallery.org
---
35 SUMMERS
Mark McNulty
15 October - 21 January 2022 (opening event 1 - 6pm Saturday 15 October)
Oriel Colwyn, Colwyn Bay
www.orielcolwyn.org
---
LEST WE FORGET
Barbara McLoughlin
16 October - 19 November 2022 (opening event 2 - 4pm Sunday 16 October)
CWTCH Community & Arts Centre, Newport
www.cwtsh.org
---
ONLY JAPAN
Richard Greatrex
18 October - 18 November 2022
Found Gallery, Brecon
www.foundgallery.co.uk
---
Valley Ffocws Community Talk (see article above)
Dr Steven Murray / Valley Ffocws
19 October
The Constitutional Club, Ynysybwl
www.foundgallery.co.uk
---
FESTIVALS
THE EYE INTERNATIONAL PHOTOGRAPHY FESTIVAL 2022
7 - 9 October 2022
Aberystwyth Arts Centre
www.theeyefestival.com
---
BOOKS ON PHOTOGRAPHY (BOP) 2022
7 - 9 October 2022 (more info soon)
Martin Parr Foundation / Royal Photographic Society - Bristol
www.martinparrfoundation.org